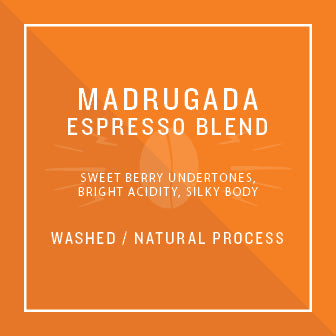 Flavor Notes | Sweet berry undertones, bright acidity, silky body
Growing Area | Guatemala, Ethiopia
Process | Washed, Natural
Our signature blend, displaying blackberry undertones with silky body and a sweet finish. If our coffee line were a record, this blend would be the hit single. Madrugada is our most versatile offering, perfect for espresso, drip, or as a refreshing iced coffee. We just can't find a bad way to brew the stuff.
Who should drink this: Everyone.
Net Weight: 12 ounces / 340 grams
Fresh roasted, ships on Mondays and Thursdays via two-day priority mail