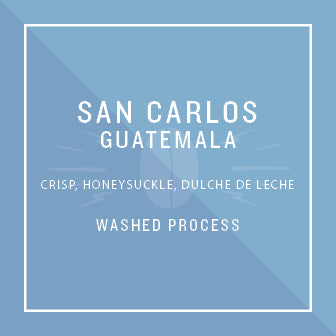 Flavor Notes | Crisp, Honeysuckle, Dulce de Leche
Growing Area | Antigua, Sacatepequez, Guatemala
Process | Fully Washed 
Variety | Bourbon
San Carlos is a new coffee produced by our friends at Los Volcanes in Antigua. Like the Lago before it, San Carlos was dried and processed at La Esperanza under the careful watch of coffee genius and all around nice guy, Josue Morales.
This coffee was grown by Anna Maria and Estela Duran, on their historic 16 hectare farm in Antigua. The San Carlos Estate has been owned and operated by the Duran family ever since its creation in 1850. The main cultivars on the farm are 100-135 year old bourbon varietals. Given their advanced age, these varietals have grown so tall that their tops actually arch back down toward the ground, making it possible to harvest from the entire surface of these enormous plants by hand. We were lucky enough to visit San Carlos on our most recent trip to origin, and it was truly a sight to behold.
San Carlos is a great example of why our Guatemalan coffees list among our favorite offerings year after year. It displays elegant, floral notes and sparkling acidity, with a creamy body and caramel sweetness. Don't be intimidated by the flowery language though, San Carlos is definitely a coffee you can drink everyday and never get tired of. We certainly haven't.
Net Weight: 12 ounces / 340 grams
Fresh roasted, ships on Mondays and Thursdays via two-day priority mail