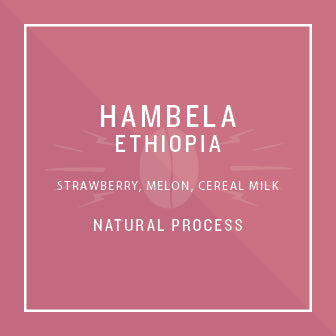 Flavor Notes | Strawberry, Melon, Cereal Milk
Growing Area | Hambela, Guji Zone, Ethiopia
Process | Natural Process
Variety | Heirloom Varietals
HAMBELA was grown by small-holder farmers who all live and work around the town of Hambela in Western Guji. Their cherry is transported to the Dimtu dry mill in Yirgacheffe where it is hand-sorted and then dried on raised beds for 18 days. Dimtu mill is one of the most technologically advanced and modern dry mills in Yirgacheffe. The station has Pinhalense machinery, 150 drying beds, a shaded experiment area, living quarters for temporary laborers and a modern farmhouse for management and visitors. 
The Hambela area is known for producing some of the most dynamic and unique coffees that come out of the Guji Zone. This particular lot is a grade 1 Ethiopian coffee, meaning that it has been put through the highest level of cherry selection and hand-sorting after being processed.
This coffee displays bold fruity notes and a silky, tea-like body that make it a stand-out no matter what brew method you choose.
Net Weight: 12 ounces / 340 grams
Fresh roasted, ships on Mondays and Thursdays via two-day priority mail