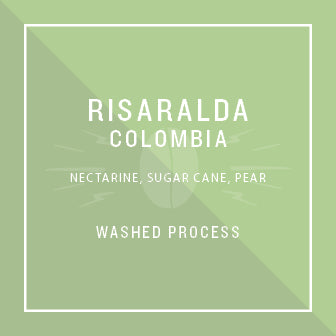 Flavor Notes | Nectarine, Sugar Cane, Bartlett Pear
Growing Area | Risaralda, Paisa Region, Colombia
Process | Fully Washed 
Variety | Caturra & Castillo
Risaralda marks our fourth time working with Cereza Coffee on bringing in exceptional offerings from Colombia, and this one might be our favorite yet. The first sip opens up with a splash of stonefruit, with complex acidity coming to the forefront as the cup cools. Risaralda is a perfect coffee for Chemex or for making a super dynamic single origin espresso. 
Net Weight: 12 ounces / 340 grams
Fresh roasted, ships on Mondays and Thursdays via two-day priority mail