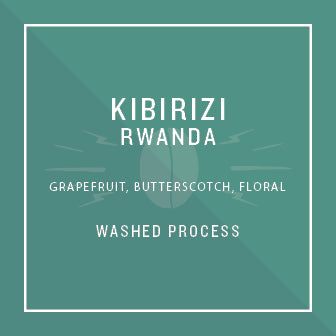 Flavor Notes | Grapefruit, Butterscotch, Floral
Growing Area | Nyamagabe, Southern Province, Rwanda
Process | Washed Process 
Variety | Bourbon
KIBIRIZI is a community lot produced by small farmers in and around the town of Nyamagabe. All cherries are collected and processed at a central washing station, which is run by a co-op that also provides training in good agricultural practices, as well as assisting local farmers with gaining certifications that will allow them to demand higher prices for their crops. 
This is our first year working with Kibirizi, but it will definitely not be our last. it has a complex, grapefruit-like acidity, that balances perfectly with just the right amount of sweetness. And true to its origins, this coffee finishes with notes of jasmine and black tea. 
12 ounces / 340 grams
Fresh roasted, ships on Mondays and Thursdays via two-day priority mail